LA MAMA REBUILD TO BE PRESENTED AT PRAGUE QUADRENNIAL 2023
From 8-18 June, La Mama design architect Meg White will make her debut at Prague Quadrennial, the renowned international festival of Performance Design and Space (PQ). The story of La Mama, the iconic little indie theatre in Carlton that burned down in 2018 and was rebuilt brick by brick with community love is one that captured the hearts and minds of arts lovers across the country - and now, with Meg's installation, Rebuild La Mama, is set to capture the imaginations of the international arts community as well.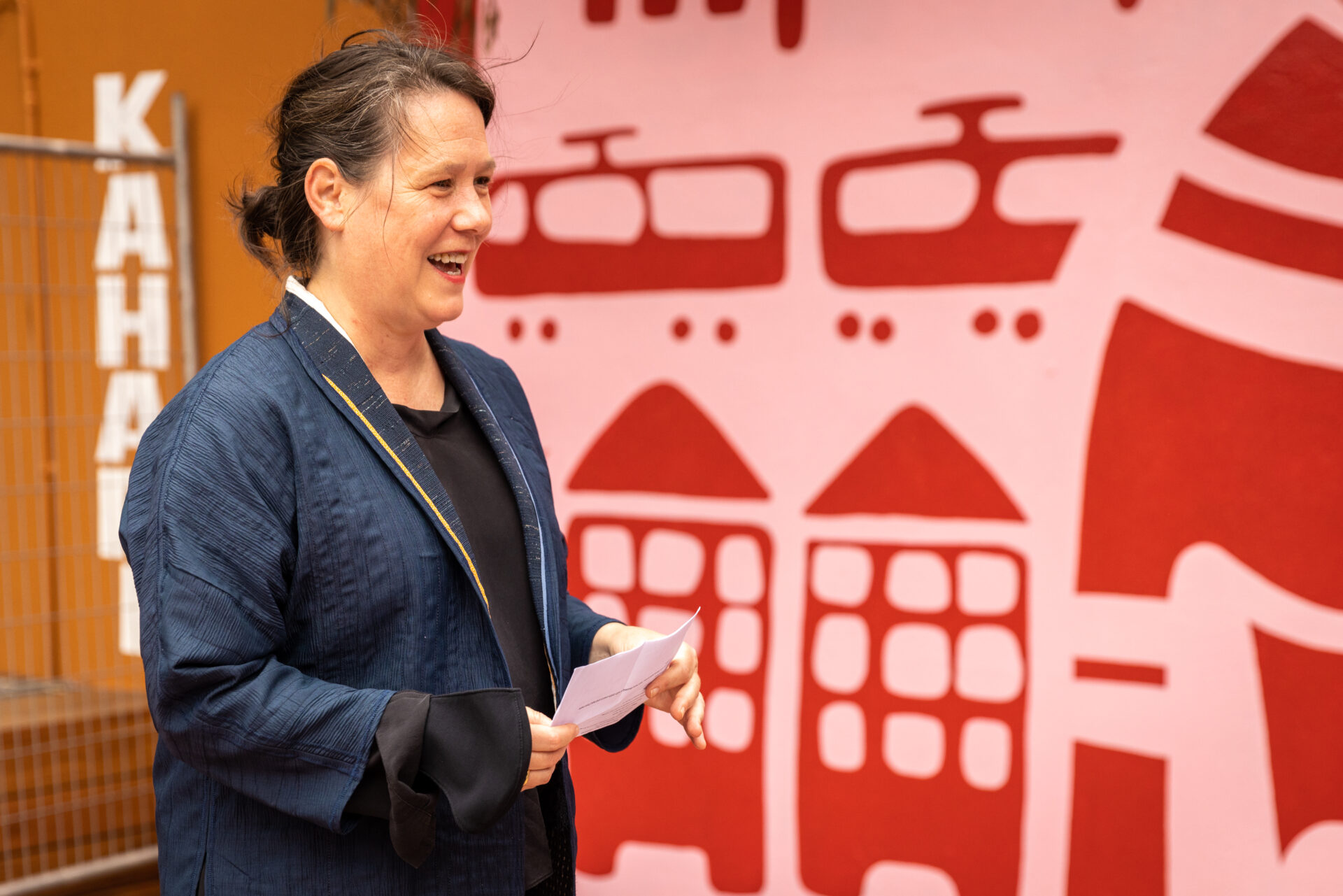 Request Image Contact: marketing@lamama.com.au
Image Copyright / CDN: Darren Gill
Design architect Meg White at La Mama Theatre in front of Aretha Brown's mural.
PQ has been running since 1967 to bring the best of design for performance, scenography, and theatre architecture to the front line of cultural activities to be experienced by professional and emerging artists as well as the general public.

ACTS OF RE-ASSEMBLY: THE RE-BUILD OF LA MAMA THEATRE has been carefully curated by Meg to capture the story of the theatre rising from the ashes. A charred beam, melted keys - these artefacts are terrible souvenirs from a night that could have ended in tragic finality, and perhaps represent the precarity of independent theatre. Since the rebuild, these objects have come to symbolise resilience and new hope, and will form part of the experience for visitors at the display.

Meg's relationship with La Mama runs deep, having performed, stage designed and served on staff as Venue Manager, so she was intimate with the space and more importantly its history and influence on Australia's theatrical landscape. The heart with which she approached the rebuild is felt in the final product, and her appointment was instrumental to its success.

Meg White said, "The Performance Space Exhibition marks the continuation of my cross disciplinary creative journey that began in the early 90's with performance, management and design, and that ultimately led me to the field of architecture. La Mama Theatre played a key part in this journey, and there was a poetic resonance in me taking on the role of design architect for the rebuild.

"Creating a piece about the Rebuild for Prague Quadrennial is the next step in the evolution for me as an architect and theatre creative where the line between the two fields is joyously blurred. The rebuild motif, the charred Banksia flower, continues to release seeds for new growth, allowing further engagement on an international scale."

La Mama Artistic Director Caitlin Dullard said, "I'm so proud that the La Mama rebuild is being exhibited as part of PQ 23. For me, it's the final stage of our rebuild process, and it's fitting to be sharing what we've done in a global, artful, inspired context. Meg's attention to detail will result in a beautiful, considered experience that communicates the feeling and ethos of La Mama. I love our little theatre and I'm delighted to be sharing a little taste of our home in this international context."

Meg will be joined by La Mama Committee Deputy Chair Helen Hopkins, and the two will form part of a panel, ACTS OF ASSEMBLY: PROJECTS FROM THE PERFORMANCE SPACE EXHIBITION, which will also include speakers from the UK, Uganda, and Canada.