Environmental Art and Design Prize People's Choice winners announced
Northern Beaches Council is delighted to announce the People's Choice winners of the 2023 Northern Beaches Environmental Art & Design Prize competition.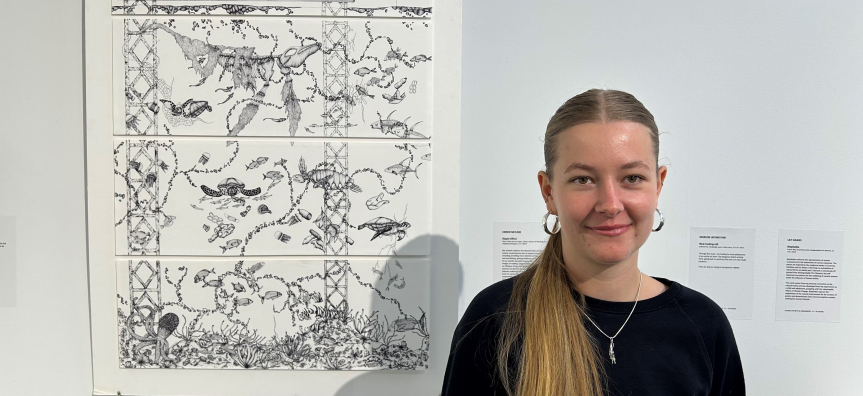 Request Image Contact: media@northernbeaches.nsw.gov.au
Ember McCabe with her artwork Ripple Effect
The winners are Ember McCabe for her artwork Ripple Effect, Shona Wilson for Seeding | Receding and Penelope Oates for Entangled.

The winners were selected by the public from over 215 works by artists and designers from around Australia, which have been displayed across three exhibition sites - Manly Art Gallery & Museum, Curl Curl Creative Space and Mona Vale Creative Space over the past month.

The winners, one for each of the three locations, receive a $1,000 award.

Mayor Sue Heins congratulated the winners and praised their creativity and passion for environmental issues.

"A big round of applause for the People's Choice winners but also for all the finalists in this year's competition.

"They, along with the many other exhibition works contribute to a positive discussion around our environment, the climate and ideas for the future."

The Environmental Art and Design Prize is in its third year and is a major fixture in the annual Northern Beaches arts calendar.

The works cover a range of contemporary practices, from fashion and functional design to ceramics, sculpture, painting, photography, and film.

The winners of prizes in the competition's nine categories as awarded by a panel of expert judges were announced in early August.

The month-long exhibition of the 215 finalist works wraps up this Sunday 27 August.

View the winners works and find out more information about the prize on our website.