A Night Of Horror International Film Festival Unveils 2023 Program
Australia's longest running showcase of horror and dark genre cinema, A Night of Horror International Film Festival (ANOH) is back for its 15th year, with a frighteningly fantastic program.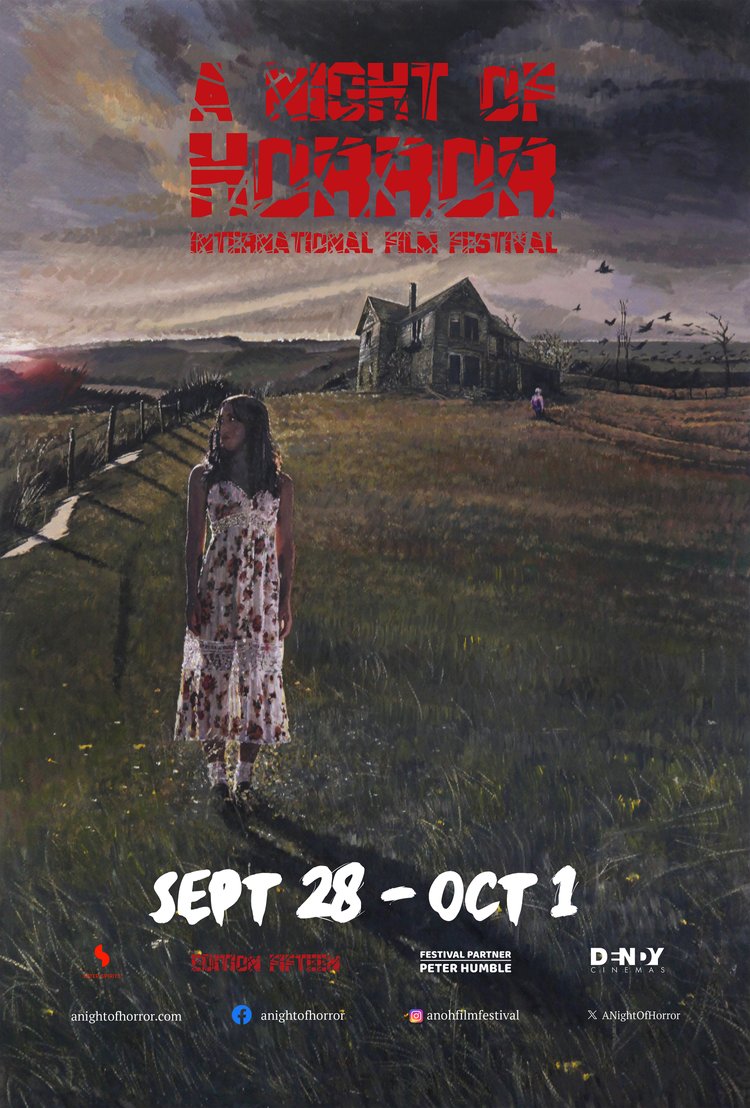 From 28th September to 1st October, the Festival will take over Dendy Cinema, screening the very best in freaky, macabre and spine-chilling film from around the globe.

Spanning across four days, ANOH is gearing up to present a total of ten features and 31 short films, hailing from different corners of the world, including Australia, United States, United Kingdom, Spain, Austria, Lithuania, Brazil, Switzerland, France, Denmark, India, and New Zealand.

"The calibre, ingenuity, and range of submissions this year truly surpassed all expectations. We were astounded by the exceptional talent and diversity on display, making the selection process a both challenging and exhilarating journey," said Festival Director, Bryn Tilly.

"This year's final line-up has films from all shades of the horror spectrum, and, as one would expect post-pandemic, many of them deal with grief and trauma, each promising to send shivers down your spine, immersing you in delightfully bizarre worlds and blood-curdling nightmares."

Opening Night Thursday 28 September will see the world premiere of The Devil's Work the third instalment in Ursula Dabrowsky's award-winning Demon Trilogy (Family Demons, Inner Demons). All three films stand alone, yet share similar themes of survival, revenge, and the loss of innocence.

Friday 29 September will see the screening of two feature films:

• Sydneysider Jack Dignan follows his 2022 ANOH award-winning debut feature After She Died with Puzzle Box, a riveting and deeply unsettling found footage purgatory tackling addition and inner demons.

• Marie Alice Wolfszahn's Austrian Mother Superior, winner of Best Film & Best Director at Brooklyn Horror Film Festival 2022, a unique delve into witchcraft and folk horror.

Saturday 30 September, the Festival will host its much-loved signature event, the Australian Shorts Gala, featuring nine of the very best fright fare from Australia.

Saturday afternoon and evening will see the screening of four feature films:

• Sarah Tice makes her feature film debut with DID I?, a whip-smart, giallo-inspired study of alter personalities and the effects of trauma on the mind, body, and soul.

• Gareth Carr & David Sullivan's Saving Grace, winner of Best Horror Feature at Washington DC International Cinema Festival 2023 and Liverpool Indie Awards 2023, a psychological thriller featuring a fierce, compelling performance from rising Aussie star Kirsty Mckenzie.

• Nicholas Tomnay's spellbinding neo-noir thriller What You Wish For, a morality tale roasting greed, told with crisp efficiency, laced with the sharp smack of horror.

• Jonas Trukanas's Pensive, a slasher flick screened in Lithuanian language with English subtitles that tackles social responsibility and identity roles in a very contemporary vein.

The International Shorts Showcase will take place Sunday 1 October, showcasing a selection of the creepiest, freakiest new short films from around the world.

Sunday afternoon will see the screening of two feature films:

• The Coffee Table by Spanish Director Caye Casa, a pitch-black comedy that balances farce, melodrama, tragedy and absurdism, screened in Spanish language with English Subtitles. Winner of Best Film at Tallinn Black Nights Film Festival 2022 and The White Raven Prize at Brussels International Fantastic Film Festival 2022.

• Chris Cronin's The Moor a creeping tale of guilt, that pushes the boundaries of folk horror (and found footage format) into Lovecraftian territory.

Steven John Mihaljevich's Violett will conclude the Festival Sunday night, with a surreal exploration of trauma, abject grief, and destructive self-preservation, constructed like a poetic puzzle.